Use following guidelines to resolve any issues you may encounter when starting and registering local agent in your network.
Special characters in Agent folder name
Make sure the agent folder path does not contain white spaces, paranthesis or any other special characters. You may encounter an error such as the following:
com.beust.jcommander.ParameterException: Was passed main parameter 'with' but no main parameter was defined
at com.beust.jcommander.JCommander.getMainParameter(JCommander.java:914)
at com.beust.jcommander.JCommander.parseValues(JCommander.java:759)
at com.beust.jcommander.JCommander.parse(JCommander.java:282)
at com.beust.jcommander.JCommander.parse(JCommander.java:265)
at com.beust.jcommander.JCommander.<init>(JCommander.java:210)
at com.aq.server.aqexecmgr.AQExecManagerServer.main(AQExecManagerServer.java:66)
Incompatible Java version
Local agent is compatible with JDK version 1.8. If you encounter the following error, please downgrade or upgrade your java version and setup Java 1.8.
Could not determine java version from 'x.x.x'
You can check for correct version of JRE by typing following command at a command prompt
java -version
JDK is not installed
Local agent requires JDK (not just JRE) to execute tests. If you encounter error as in the image below (screenshot of test report), make sure JDK 1.8 is installed on your local agent machine. You can check for existence of JDK by typing following command at a command prompt. Response should indicate version 1.8.*
javac -version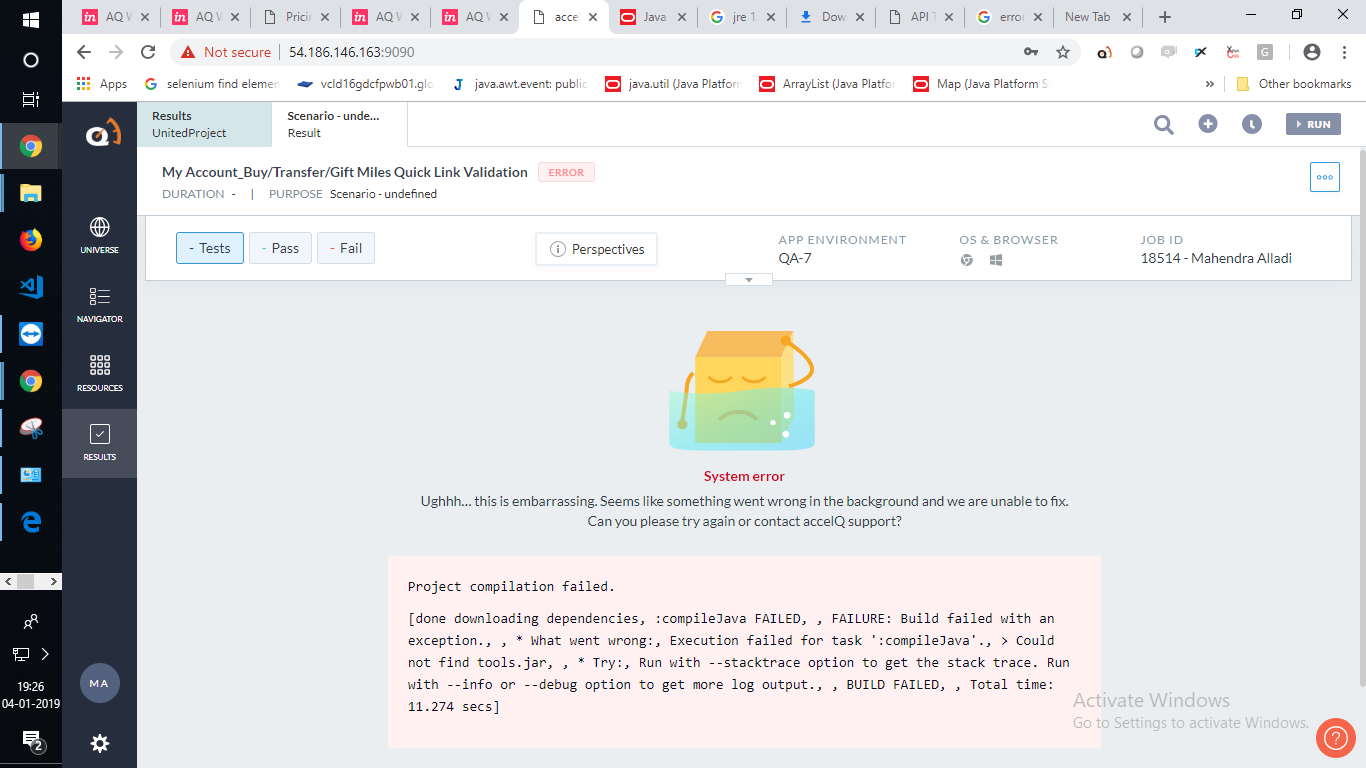 Security warning on Windows desktop
When you run the startup batch file for windows, you may be prompted with a security warning as below. Click on "More Info" link and then click "Run Anyway" button.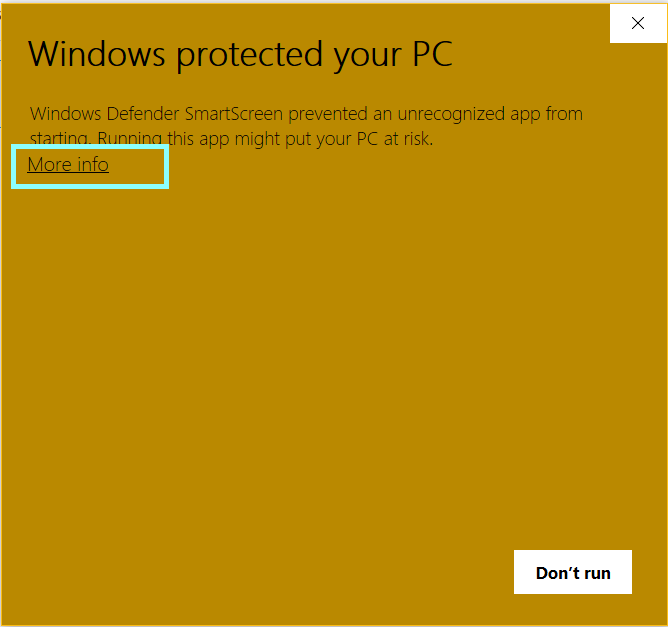 Agent name already in use
Agent name specified in the agent.properties file may already be taken. Try updating the agent name in the properties and invoke again. 
Agent names are allocated on-demand. If an agent goes inactive for more than 30 seconds, same name may become available for another registration.
Note: It may sometimes be possible that required agent name may not be listed as active, but it may take up to 60 seconds to free up the name for a fresh registration. If you are sure about a particular agent not used anywhere else, try waiting for 60 seconds and invoke the agent again with the same name. 
Port is busy
Port number used for agent may be in use by another process on your desktop. Try with a different port number.
Note: In case you find previous port number you used for agent as not available, try with a different number. Sometimes, the Operating System may hold on to the port number even after the termination of the process holding it originally.
Setting up proxy
In case incoming traffic to the local agent machine is routed through a Proxy, make sure to provide this information in the agent properties file. You may be able to get this information from your network admin.
If a proxy is required, you may get an error message indicating Forbidden
Note: In some cases, both http and https may be routed through different proxy servers. Update both the sections as required in the properties file.