ACCELQ 6.0 is a Major Release version and brings a host of new capabilities to the platform.
Action Logic Recorder
With Release 6.0, ACCELQ introduces an embedded Recorder in the Action Logic Editor for Web Application testing. This is a powerful capability that further speeds up logic development in Action Logic Editor. A perfectly complementing "Playback" feature allows you to gain instant feedback as you develop test logic. You can also select an arbitrary set of statements and execute them in Live.
"Views" are now captured automatically by the system, without the need for the user ever having to manually manage Views. As the test application front-end evolves, Views are automatically kept up to date purging older ones.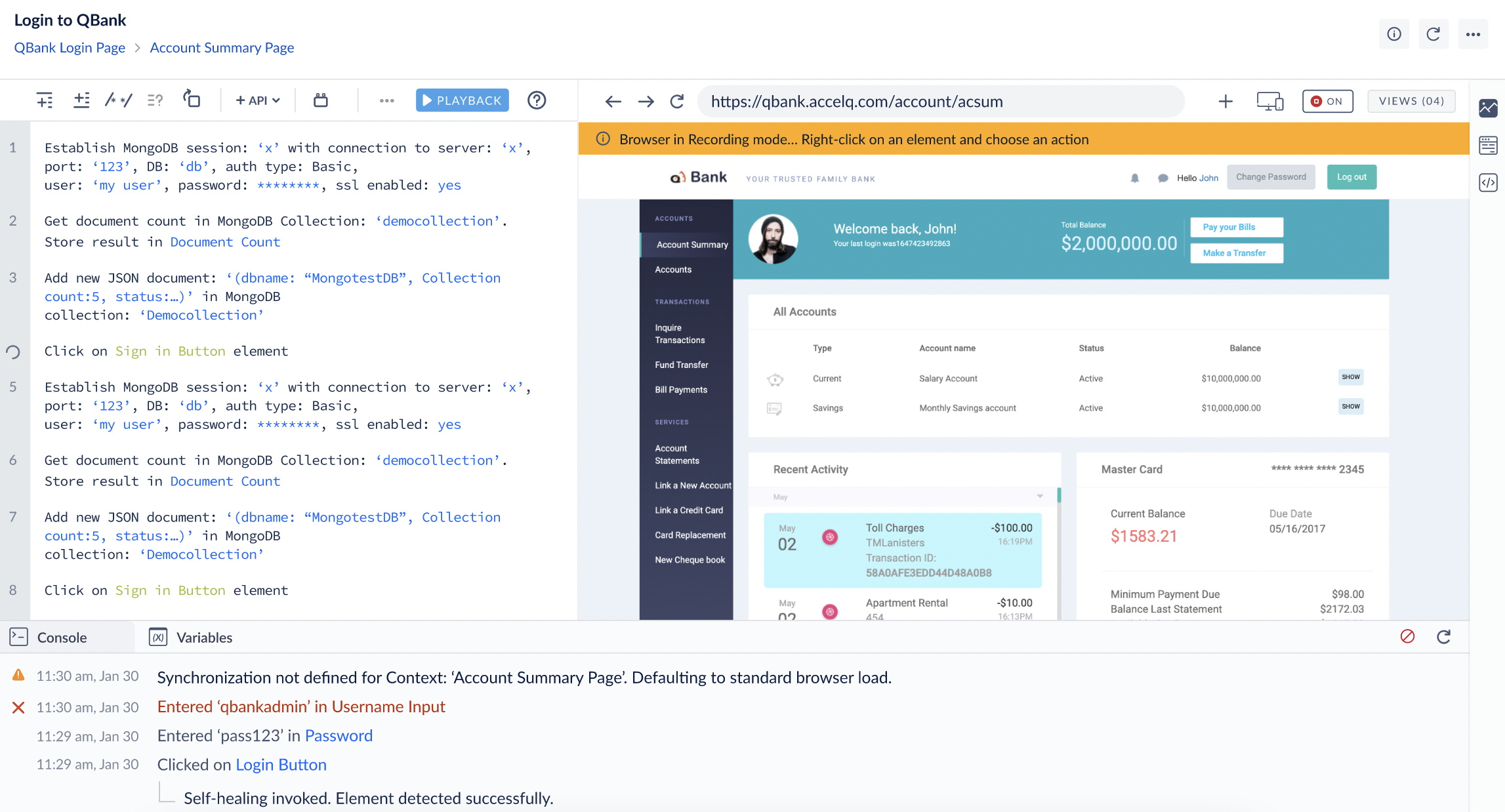 Here is an article describing this capability in greater detail.
Cross-Project Asset Sharing
Cross-project asset sharing is a powerful enterprise capability to allow sharing of Actions and related resources between multiple Projects. Recall that in ACCELQ, a Project usually corresponds to one application-under-test (AUT) where you manage all the test assets related to the specific AUT.
However, when you are building end-to-end system-level automation, there may be a need to bring test assets from multiple applications in one flow. Different teams may be responsible for the automation development and maintenance of each of these applications. It is not ideal to duplicate these test assets in the end-to-end project. Cross-Project sharing allows independent teams to work in their own Project/Application silos while still allowing the possibility to build end-to-end automation that cuts across multiple applications.
tbd: picture with config screen
Here is an article with a detailed view of this powerful new feature.
Requires Enterprise Edition subscription.
Introducing ACCELQ Live - A powerful Platform for building Marketplace Add-ons
With 6.0, ACCELQ introduced Live, a platform for building and managing Marketplace Add-ons. Live is an innovation in the test automation space that allows vendors to release add-ons specific to an application under test. As part of this initial cut, ACCELQ made available Add-ons for Salesforce, MS Dynamics, and Oracle Fusion. Several other application add-ons are currently in progress.
tbd: fill this along with images of tiles with proper release numbers
Revamped Logic Editor
Action Logic Editor is completely revamped for a fresh new look and significantly improved usability. The logic editor is now extremely fluid, with various components positioned for maximum productivity and space optimization.
Toolbar with editor options makes it easy to edit and refactor the logic
Views and Recorder are placed on the right-hand side to complement logic building activity
The information sidebar is tucked into the entity-level toolbar
Display and navigation of Views is streamlined further
Console log provides access to logic execution results
And a lot more new enhancements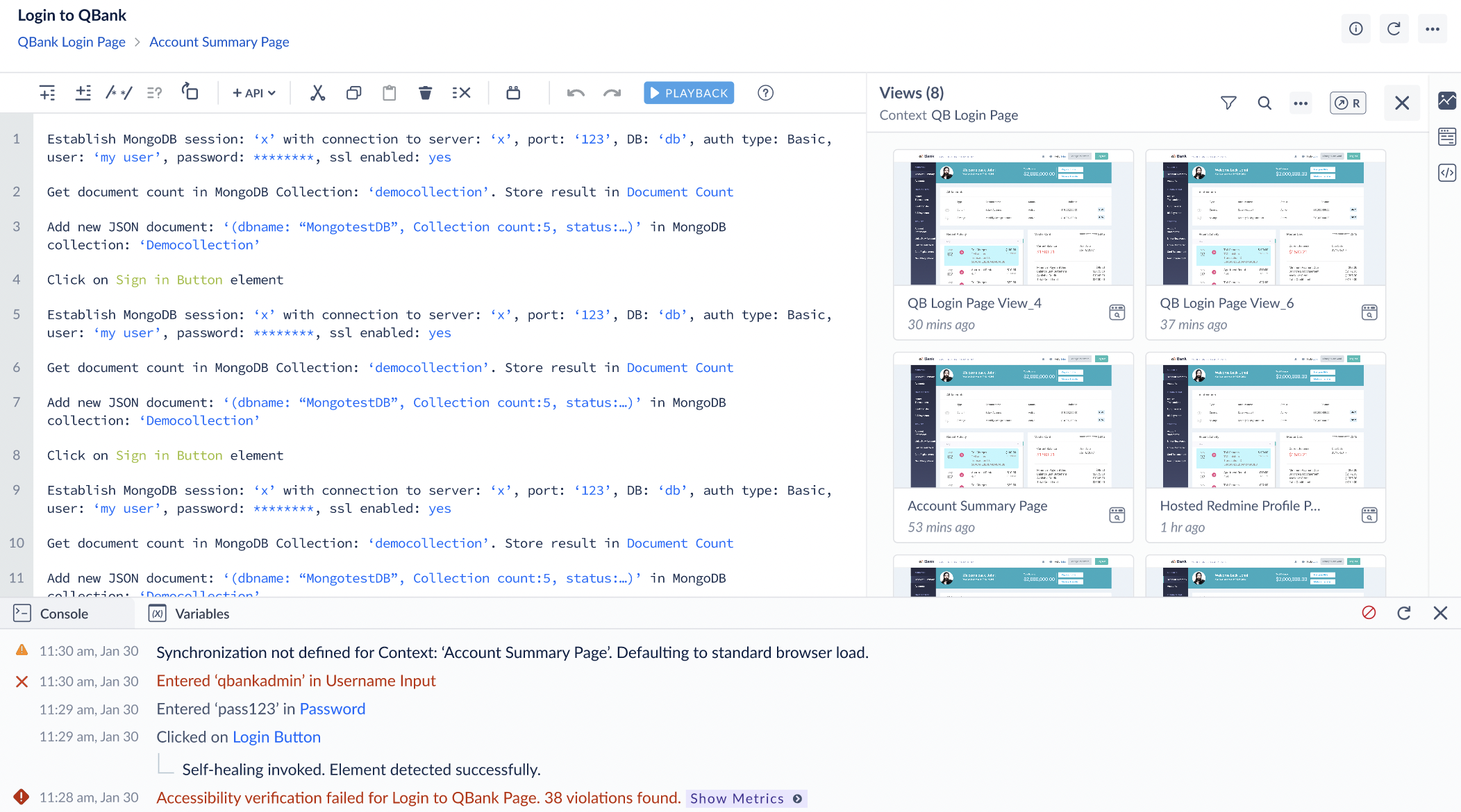 Create Actions from selected Statements
Action logic editor now provides the capability to select a set of statements and create a new Action out of the selection. This feature comes in handy for refactoring efforts to improve design and modularity as you create and maintain your Action logic.
Click on the "Create Action" button in the Logic Editor toolbar and follow the prompts to define the Action signature. The system prompts you for input and output parameterization options as you create new Action. Here is a detailed article about this feature.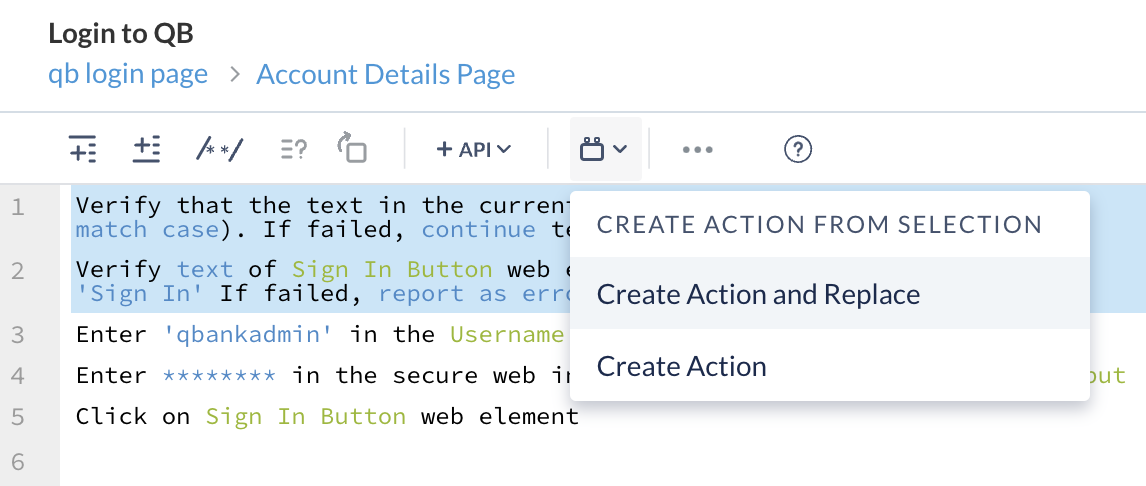 Support for Encrypted Parameter type
You can now mark an Action input parameter as an Encrypted parameter so that a masked input field is presented for parameter value across ACCELQ workflows. In the prior versions, it was necessary for the user to separately encrypt the information and input it.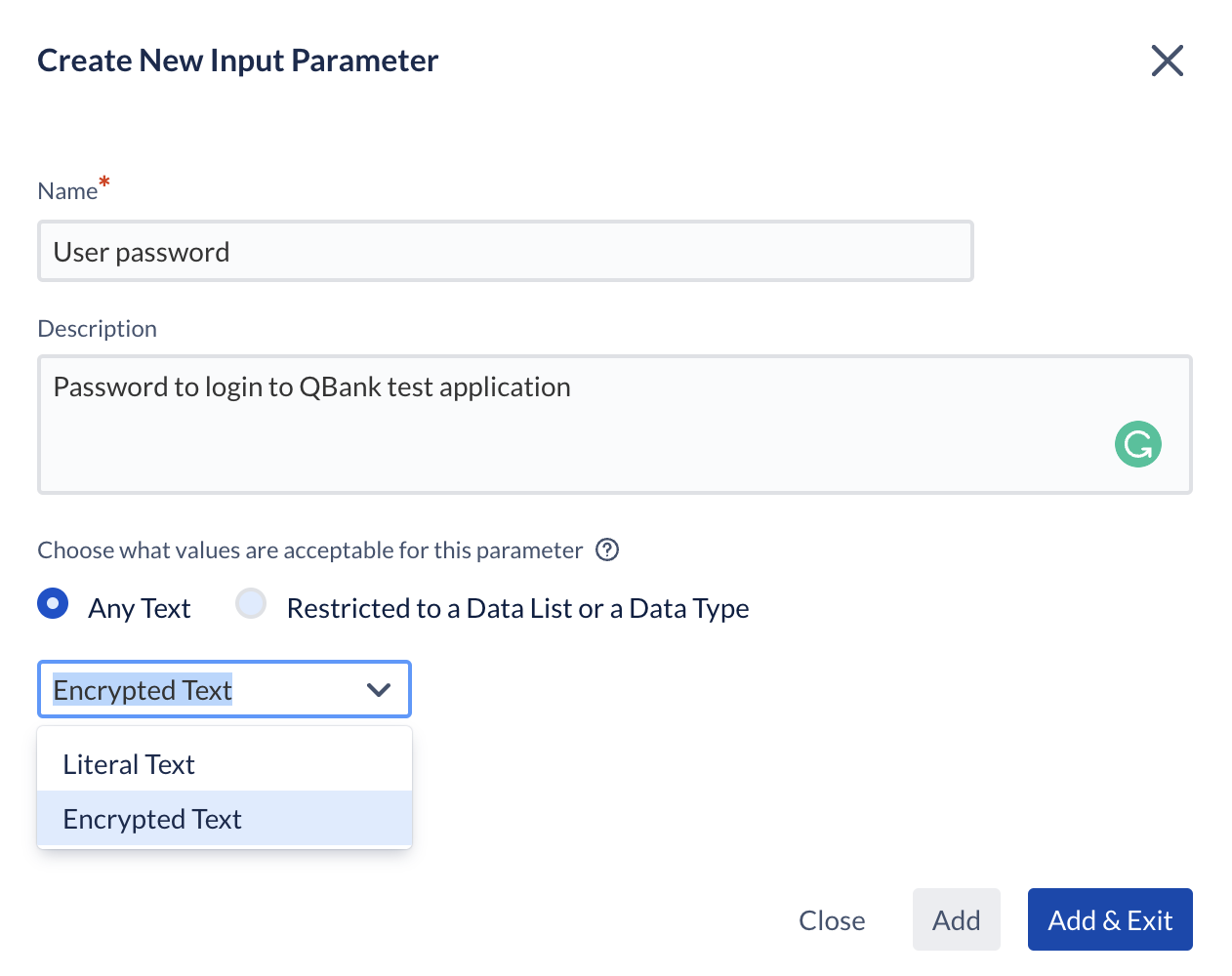 Revamped Element Editor (P/V Explorer)
Element Explorer UI is enhanced to allow better navigability and more visually intuitive configuration. Element Explorer opens as an independent full-screen modal.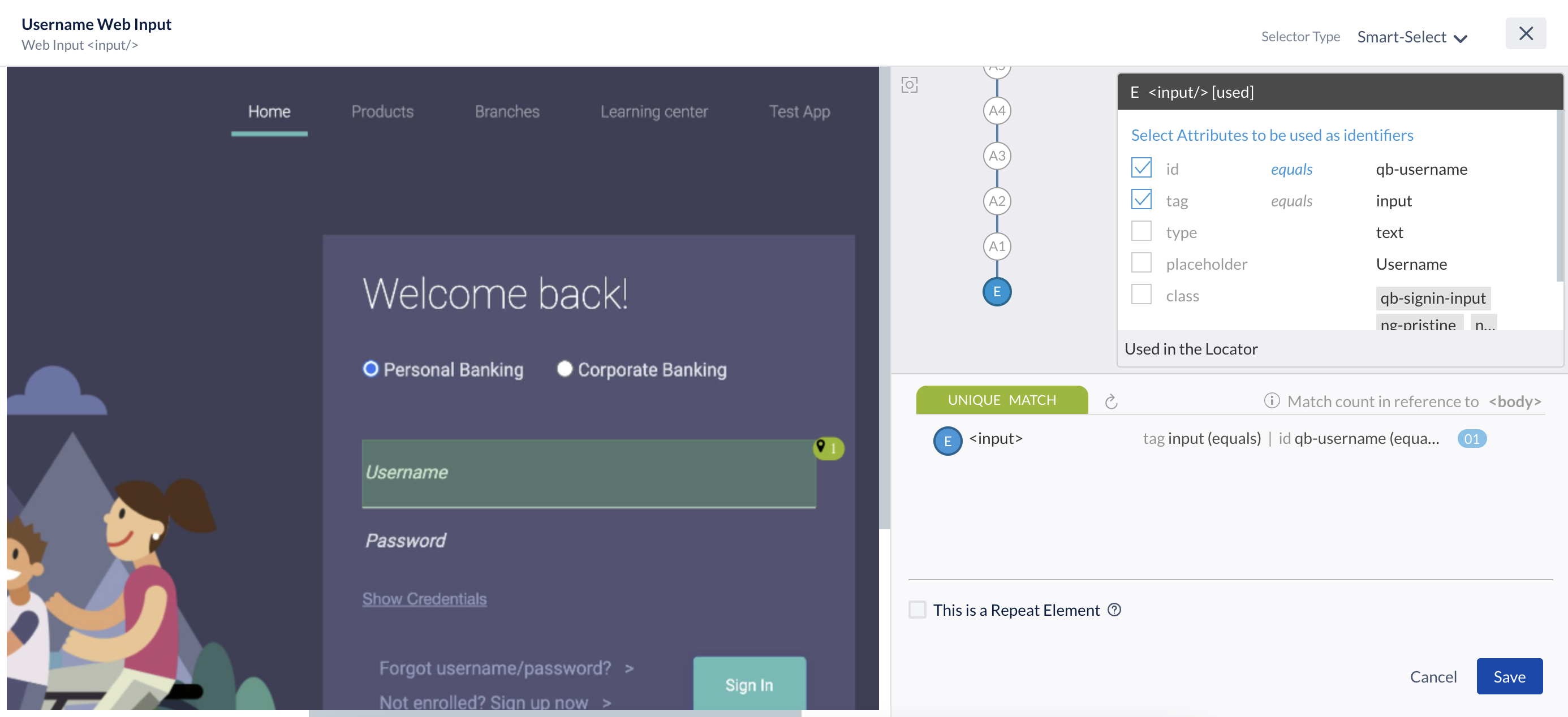 Entity information sidebar improvements
The Info sidebar for various entities (Scenario, Context, Action, and Test Suite) is revamped to enhance look & feel, and usability. And in the revised interaction, you open the Info sidebar from the entity toolbar.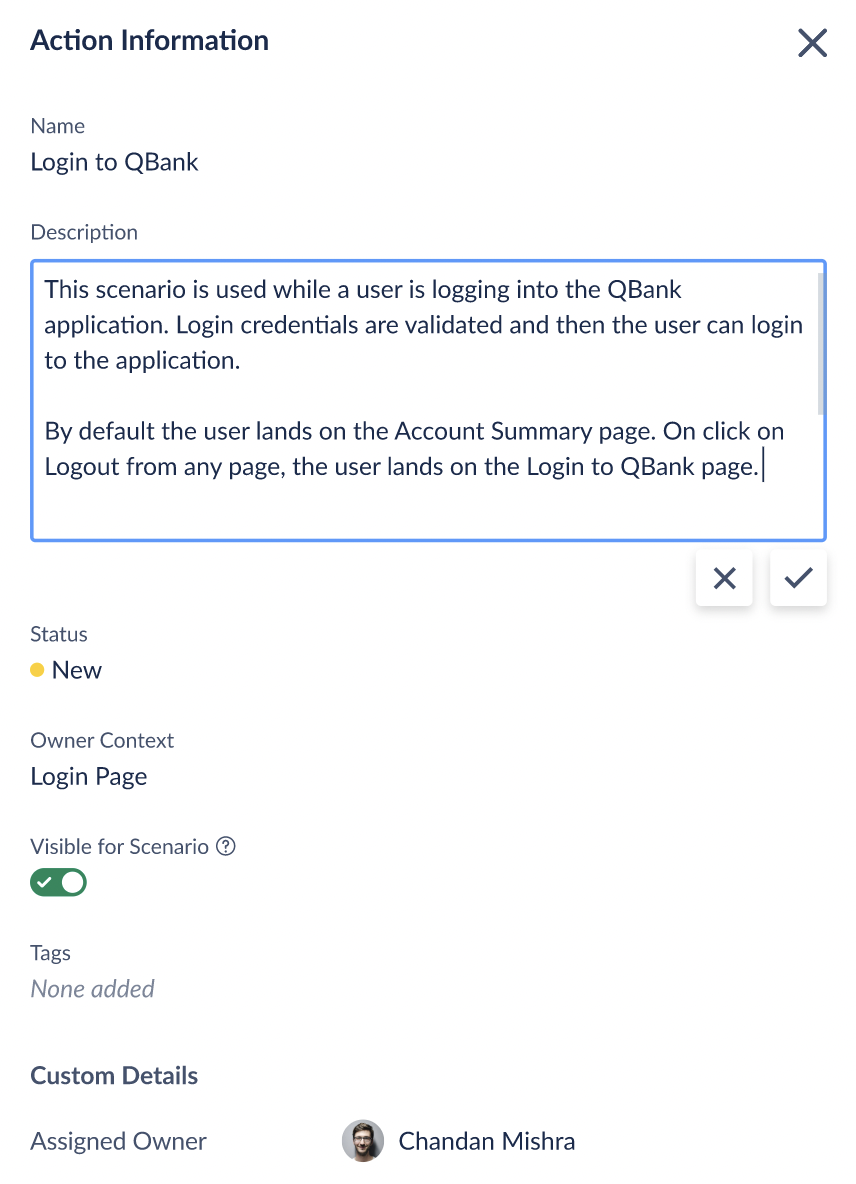 Web Performance and Accessibility Testing
ACCELQ 6.0 brings non-functional testing capability with Web Performance and Accessibility validation. This validation is achieved contextually for every page in your application as a functional automation test is executed. No explicit effort is required from a test development point of view. Since the process is embedded in the functional test cycle, all the pages touched during the automation test are covered for Web Accessibility and Performance automatically. This avoids an otherwise tedious effort to cover various paths and pages involved in an application flow.
More information about Web Performance testing
More information about Accessibility validation
Requires subscription to Enterprise Edition.
Native support for Responsive validation on Emulated devices
When running a browser-based test, you can now choose the browser configuration from a configurable list of emulated device types. This makes it easy to quickly validate your web application against an emulated mobile device, tablet, or desktop of a given resolution without duplicating test logic. You may configure these devices with different resolutions, device pixel ratios, and user-agent strings.
Requires subscription to Enterprise Edition of Automate Web.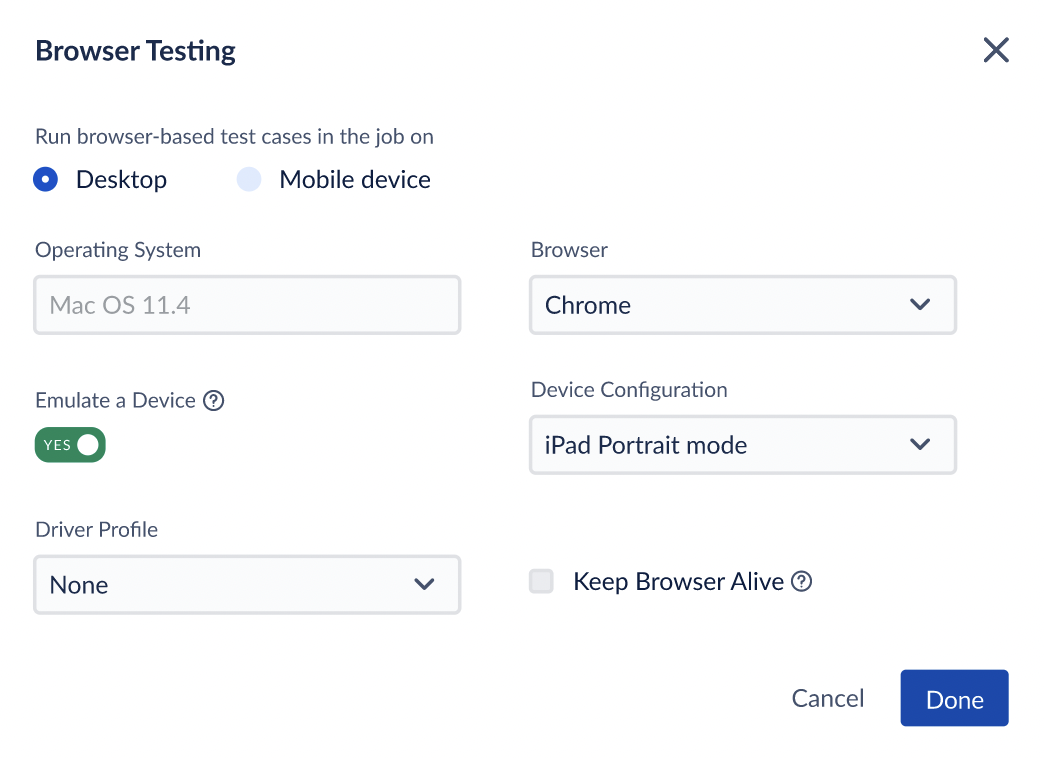 Browser test execution on real Mobile Devices
ACCELQ 6.0 brings support for running web-based tests on real mobile devices. Both iOS and Android devices are supported. Elements that are sensitive to the device type can be configured with the concept of Element Instances thereby bringing portability of test logic against all possible device types.
Here is an article with an example to build a portable test logic for multiple device types.
Requires subscription to Automate Mobile.
Major revamp of Result statement details
From the test result page, you can further drill down and explore information at a statement level. This information is now presented in an inline structure with a rich user interface and clear information display. Different types of statements are addressed as appropriate for the functionality. This should assist with quicker troubleshooting and the analysis of the results.

Auto Re-Run failed tests
When running an Automation Scenario or Suite, ACCELQ now provides the ability to set up Auto Re-run configuration.
Sometimes a long-running automation test suite may experience failures that may not necessarily be functional in nature. You could see failures related to environment stability, deployment issues, data sanity, etc. Such failures may sometimes be addressed automatically on a re-run of the test. You can configure Auto Re-run options based on this requirement.
More information can be found in this article.
Standardized Action summary
Across different use cases in the system, Action summary information is presented in a consistent fashion. This helps to gain a quick understanding of the Action's interface and functionality contextually without having to take a detour to open the Action.
Here are some examples where the Action summary can be accessed from:
Adding a step in a Scenario
Calling an Action in another Action
Scenario step information
and others
tbd: image
Project Merge is now possible without Tenant Admin privilege
Project Merge is now a defined privilege in the Role definition. A Project Admin may choose which users in a Project can be allowed to update the Project by merging from another related Project.
tbd: about saving-as-draft etc.
Command Line Interface for Agent Management
Agent Command Center (ACC) is the desktop service that manages Execution Agents on the machines where the automation tests should run. The newly supported command-line interface (CLI) provides the ability to manage ACC services through the command line and is helpful in environments where desktop UI is not available on these host machines.
Here is a detailed article about CLI for Agent management.
Universe Display Refresh
Universe rendering is refreshed with an all-new look & feel and the connections between nodes are simplified based on the Scenario flow structure. This new approach eases out the rendering of extremely large projects which may have thousands of Scenarios for one Application under test.
Headspin Integration
ACCELQ now supports Headspin as a remote execution host for Web and Mobile test automation. Here is the guide with instructions for setting up this integration.
Digital AI Integration
ACCELQ now supports Digital AI as a remote execution host for Web and Mobile test automation. Here is the guide with instructions for setting up this integration.
tbd: integration article
CI/CD Plugin Enhancement for Failure Threshold
CI/CD plugins for Team City, Jenkins, Azure, Bamboo, Circle CI, GitHub Actions, etc. are enhanced to support "Failure threshold". This parameter indicates the percentage of automation test case failures in the pipeline, which should mark the CI Job as a failure. Depending on your requirement, you can now build some tolerance for pipeline failure.
Commands for QR code and barcode parsing
New commands are added for barcode and QR code parsing in Action logic. You may either point to an image file with the QR/barcode or input the code in base64 format.
Other Enhancements
Custom-defined "Status" value can now be assigned a "Category". A given Status value may belong to either the New, Todo or Completed category.
"History" of an entity is now moved to the entity-toolbar menu. Click on the "..." menu from the Action, Scenario, Context pages to display the recent update history.
Jira Connect filter bug fix: Filter is applicable across multiple page listings in pagination. This used to be erroneously applied only to the first page of content.
ACCELQ Runtime for Web is updated to Selenium 4.0, bringing in new enhancements and improved reliability.