Action logic editor provides capability to build automation logic in the action, which includes user interactions or verification on test application, making database calls or API calls etc. Logic Editor provides tools necessary to build this logic without coding.

What is a Statement
Action logic is comprised of a set of Statements. A statement may be for clicking a button on your application, verifying the title of your application page or a loop to repeat certain logic multiple times. Every line in the action logic is a statement. 

Different Types of Statements
Here is the list of statement types supported in the logic editor. We will discuss each of these statement types in greater detail in separate sections.
Command statement

Control statements

Conditional statement: If/ Else/ Else If

Loop statement: While

Loop statement: Do-while

Loop statement: Repeat

Expression

Action Call

Exit Action

Annotation


Inserting a Statement
1. Click on the new line in the logic editor.
2. Start typing your intent and follow the instruction on the screen.

Creating a new statement
Note: If you need to insert a statement in the middle of existing logic, click on an existing statement and hit "Enter" or "Shift + Enter" to make a line after or before the current statement.
Selecting a Statement Type
1. Click on the new line in the logic editor.
2. type "/" to get the list of Statement types and select a type you need.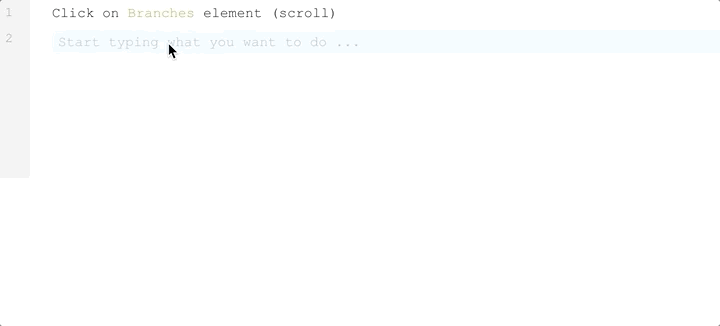 Selecting Statment type
Note: Command Statement is the default type, where you don't need to prefix with "/" to find commands. Any statement that you type, by default is considered a command statement.
Modifying an existing statement
To modify or work with the existing statement, select the statement and right-click to view the context menu.

Modifying an existing statement
1. To change parameter values: click on the corresponding parameter link in the statement
2. Comment: Select Comment option from the context menu or select the statement and type "/".
3. Delete: Select Delete option from the context menu or hit "delete" key.
4. Clone Statement: Select Clone option from the context menu or use "ctrl+Q"
5. Command Help: Select Command Help from the context menu or hit "?" key
Moving a Statement
1. Select the statement that you would like to move, point your mouse on the move icon on the left side of the statement, then click and drag.
2. Release it in the desired location.



Moving a statement
Removing an unsaved Statement
1. If you need to remove an unsaved statement, hit "Esc" button.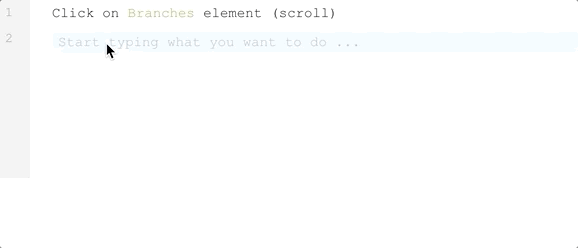 Removing unsaved statement