Test Reports grow with executions and it is a good practice to cleanup old reports from time to time. accelQ provides comprehensive options to purge old reports and clear up storage space. As the disk consumption increases, it may have negative impact on performance.
Select Reports to Purge
From the Results grid, click on Purge icon. You can choose to purge all reports or reports older than a particular date / time.
Purge Options
You can choose to delete everything or delete just the images (which consume most of the storage space). When you choose images-only option, reports are still accessible on your Project, but the screenshots won't be displayed. When you try to access slideshow on reports whose images are deleted, a message is displayed indicating who/when the image purge was done.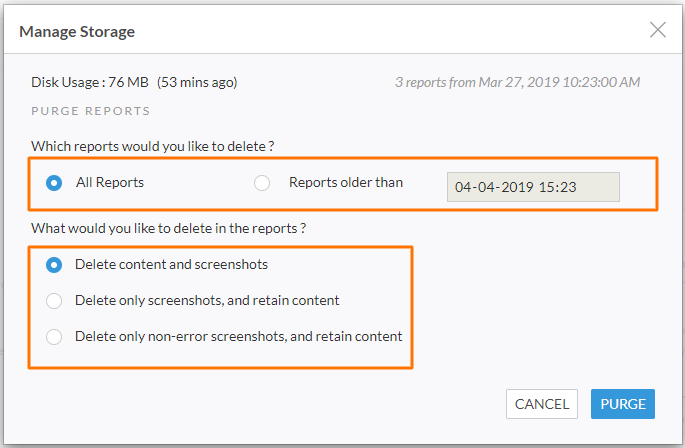 Decide which reports to purge
You can purge all the reports and choose the reports older than a particular date. If you need a 30 day retention of reports, select a date 30 days in the past. Once you make this selection, you can now decide on the Purge option.
Decide what gets deleted in the reports
Once you select the reports to purge based on the date, you have 3 different options to choose from. Remember, over 95% of the space is consumed in the screenshots of test results.
Delete content and screenshots: Everything is deleted, and the report wont be accessible any more.
Delete screenshots only, while retaining the report content: This will ensure the reports are visible in the Results grid and you can open/review. However, the screenshots wont be available.
Delete non-error screenshots and retain the content: In this case, some of the images pertaining to failure steps are retained. Most of the images get deleted, while the report text content is still available.
It is a good practice to purge reports on a regular schedule to ensure optimal system performance.