Annotation is a free-form note you can insert in action logic, which is helpful to describe the logic or as a placeholder text for the purpose of readability or clarification. You can insert an annotation from the Statement menu in logic editor.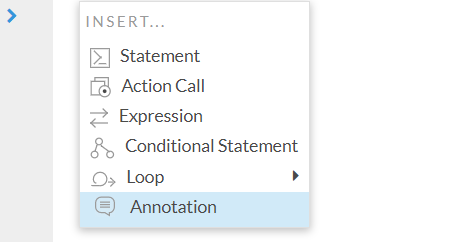 Commenting refers to disabling a piece of code in action logic from executing. This is helpful to bypass, part of the logic temporarily without deleting it. You can always uncomment it in future.
Comment/uncomment is accomplished from the statement level action toolbar in the logic editor.

Note: Commented logic still keeps reference to its dependencies such as elements or parameters. If you try to delete any such elements or parameters, you will still get a reference error.
Note: When dealing with logic blocks such as if/else, loop etc, comment/uncomment is restricted to contiguous block of code to keep it consistent after commenting or uncommenting.