ACCELQ provides integration points with market-leading bug tracking tools so that you can seamlessly establish traceability between ACCELQ test cases and defects. Defect life cycle is still managed in the external system, but updates are reflected in ACCELQ in realtime.
Supported Systems
ACCELQ supports direct integration with Atlassian Jira and Microsoft Azure TFS/VSTS for bug tracking.
Defining Integration Point
Defect integration information is managed at a Project level. Every project in a tenant can point to a different bug tracking system for traceability.
You need Project Admin privilege to define a defect integration point.
In ACCELQ, click on gear icon on the left nav and open the Configuration screen.

Click Defect Integration under Integrations section.

Click on "Setup Defect Tracking Integration" button

Select Jira or TFS in the dropdown and furnish the connection information. Please see below for acceptable credentials.

Once you provide connection information, click on "Test Connection" to make sure the communication between ACCELQ and Jira/TFS is established properly.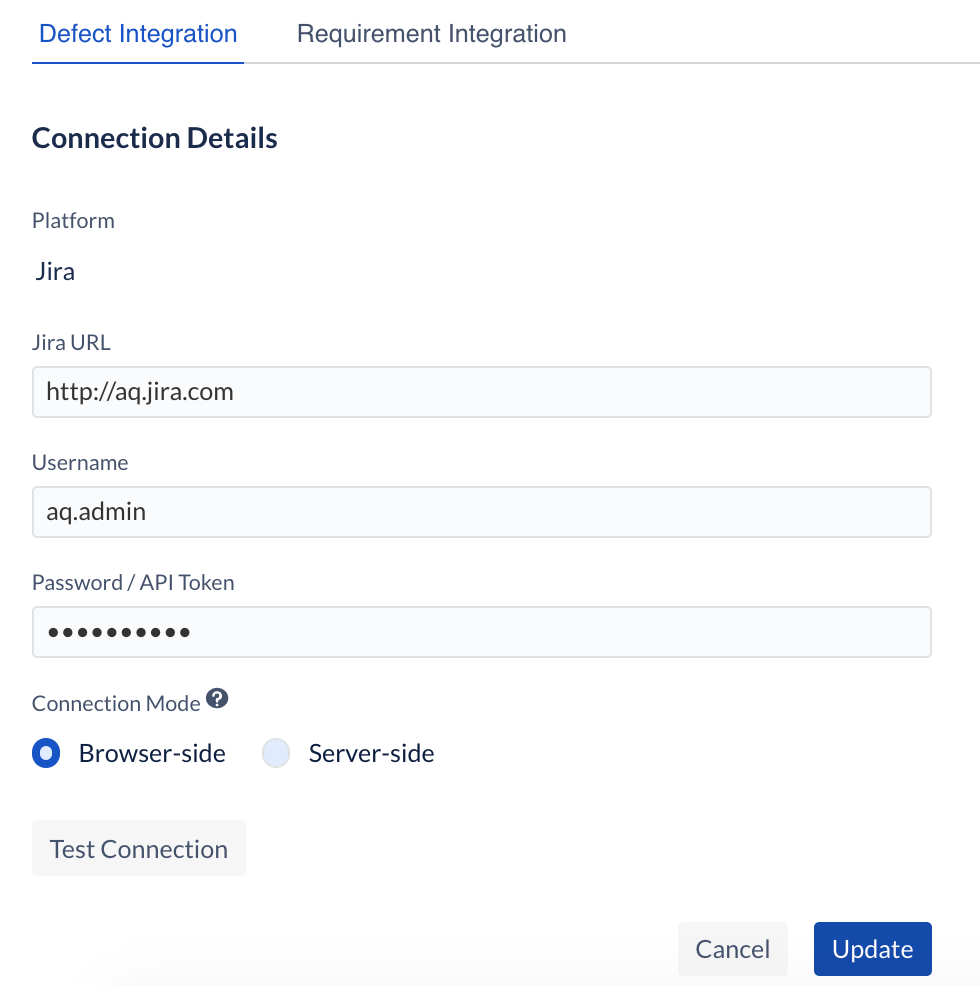 Note: Connection Mode setting allows you to control how ACCELQ tries to communicate with your Jira or Azure instance.
Browser-side setting enables communication from your browser directly, just like you work with Jira/TFS from the browser.
Server-side setting enables the communication from the ACCELQ server to your Jira/TFS instance.
Acceptable Credentials for Jira and TFS
Depending on your particular Jira or TFS setup, you may need to furnish different types of credentials to integrate with ACCELQ. Following options are available
Jira
Option 1: URL, User name, and Password that you use to login to Jira.

Option 2: URL, User name and API Key
Azure, TFS/VSTS
Option 1: URL and Personal Access Token (recommended)
Option 2: Alternate Credentials that includes URL and password
Creating a defect from ACCELQ
Once the Defect integration is setup, you can start creating defects from the test results. You can also associate with existing defects on the target system. Here is a detailed article.
Reviewing Test Coverage information in Jira/Azure
Setting up the integration point in ACCELQ allows information to be brought in from Jira/Azure to establish traceability with ACCELQ Scenarios. However, if you need to also view this traceability information in the Jira/Azure interface, you will need to install the respective plugin. Here are the articles to help you with setting up these plugins.