accelQ provides an ability to execute tests on your existing Browser Stack or Sauce Labs subscription. You simply configure your local agent integration by following the steps listed here.
When you point to one of these cloud infrastructures, your application browser is invoked remotely, but the remaining execution and results workflows remain same. You continue to manage the test execution cycle from accelQ.
Configure agent properties
Configure your agent properties and provide appropriate values for following properties:
# Provider Types - LOCALHOST, SAUCE_LABS, BROWSER_STACK
provider_type=SAUCE_LABS
provider_username=sauce_user
provider_password=xxxxxxxxxxxxxxxxxxxxxxxxxxxx
Alternatively, you can generate this information from Resources > Local Agents tab in accelQ.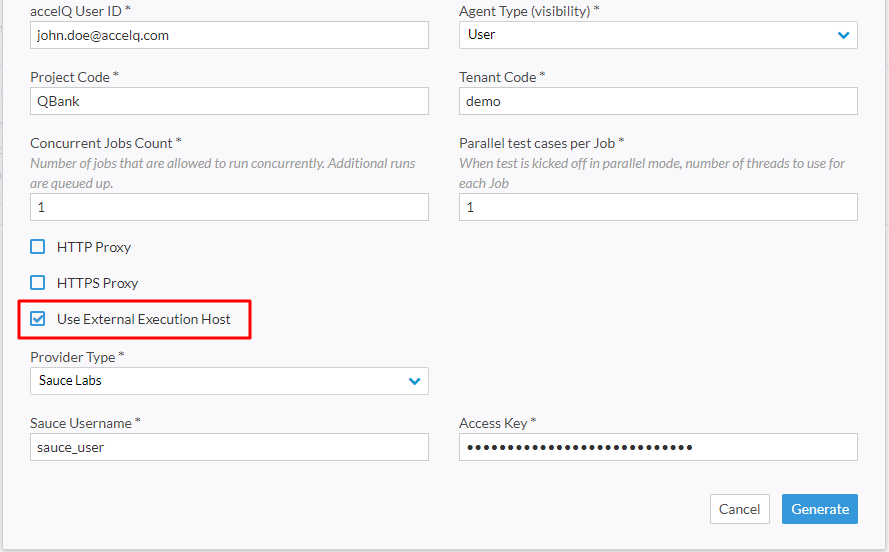 Once you setup your agent to communicate with Browser Stack or Sauce Labs, rest of the workflow remains the same.
Refreshing list of supported Browser/OS
From time to time, as new combinations of OS and Browser are added to cloud providers such as Sauce Labs and Browser Stack, you can update this matrix on accelQ.
In the Run modal, when you select an agent that is configured to open browser on Browser Stack or Sauce Labs a "refresh" link is displayed under the Browser/OS field. In case the expected browser or OS name is not listed under the drop downs, click on the "Refresh OS/Browsers" link.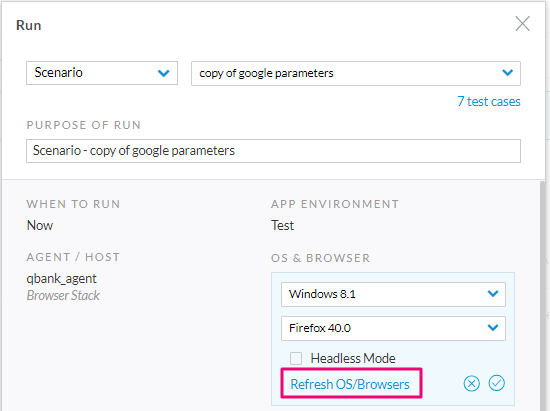 Once refreshed, this information is persisted so that you do not have to update the same information again.